Creating the perfect sound for a live event can be a daunting task. There are so many factors to consider–the size of the venue, the type of event, the audience's expectations, and of course, your own personal preferences. But one thing that is always important is having enough power to reach everyone in the room. In this blog post, we'll take a look at some of the best power amplifiers on the market and discuss why they might be right for your next concert or other live event. Keep reading to learn more!
Live sound amplifiers are essential to any live event. Event professionals around the world use them to increase the amplitude of audio coming from their mixing boards, allowing a small audio signal from a microphone to fill a concert hall. They come in a variety of shapes and sizes, with power outputs that can range from a few hundred watts to several thousand.
When choosing the right amplifier for your event, there are a few things you'll need to consider. The most important factor is the size of the venue. If you're putting on a small show, your amplifier's wattage does not need to be as high as if you're filling a stadium. You'll also need to consider how many people are likely to attend the event. A larger audience means a higher power amplifier is necessary, while smaller crowds can be accommodated by less powerful models.
Other things to consider include the overall volume of your event, what type of sounds you'll be playing (speech at a conference vs. music at a concert), and the power limits of your venue. A good power amp should be able to handle lots of different frequencies at once without distortion, and should provide plenty of headroom so that you don't have any unwanted noise in the mix. Once you have all these factors in mind, it should become much easier to choose an amplifier for your next live sound project!
Top Power Amplifier Brands for Live Sounds
Over the past couple of decades, the number of power amplifiers on the market has grown exponentially. You can find a variety of models and brands on the market, so it is important to do your research. If you're unsure where to start, consider these top power amplifier brands:
Each of these companies is known for consistently creating quality sound equipment. They are also industry leaders in the live audio space, offering amplifiers that have been tried and tested by professionals around the world. Some of these manufacturers, like L-Acoustics, d&b audiotechnik, and Meyer Sound, have proprietary power amplifiers for their own speaker systems. These include the L-Acoustics LA8 and L-Acoustics LA4X, the d&b audiotechnik D12 amplifier, and Meyer Galileo Galaxy 408 and Galileo Galaxy 816 and Meyer Galileo Callisto models.
You can also choose power amplifiers that are compatible with third-party audio equipment, such as the Crown XLS series and Yamaha AMS series.

Crown Amplifiers
Crown Audio is a trusted brand in live sound. They offer several models of power amplifier, including some designed specifically
The Crown XLI4000 is a great option for anyone looking for an amplifier with plenty of power. This amp can deliver up to 4000 watts of RMS output, making it perfect for larger venues. It also features built-in DSP processing, which allows you to fine-tune the sound to your exact specifications. And with its compact size, the XLI4000 is easy to transport and set up.
For smaller venues or more intimate events, the Crown XLS2002 might be a better option. This amplifier delivers up to 2000 watts of RMS power and comes with a range of built-in presets that make it easy to get great sound quickly. And thanks to its small size and portability, the Crown XLS2002 is very easy to transport.
The Crown XTi 4002 is a live sound processor that delivers impressive performance and contains several user-friendly features. The Enhanced Subharmonic Synth part allows you to completely customize the frequency, gain, and filter types for each speaker system that enters the venue, giving you total control over your device.
And we can't forget the ever-popular I-Tech series of amplifiers—like the Crown I-Tech 4x3500HD, Crown I-Tech 4000, Crown I-Tech 5000HD, Crown I-Tech 12000HD, and Crown IT12000i models, these amplifiers are known for their powerful sound and reliable performance, making them popular choices among musicians worldwide. Furthermore, Crown I-Tech amplifiers are designed to provide maximum power in a compact package, which makes them easy to transport and set up.
We also must mention that Crown Audio also offers several models designed specifically for subwoofers, including the Crown XD 4000SUB, Crown XTi12000HD SUB/PLATFORM (with built-in Dante networking), Crown Xti 5000HD subwoofer amplifier, and Crown Xti 12000HD subwoofer amplifier.

Lab Gruppen Amplifiers
The German company Lab Gruppen has also become a popular choice among event professionals for all things pro audio. Lab Gruppen is especially well known for its innovative power amplifier technology. The company's FP9000 delivers up to 9000 watts of RMS power and has a built-in DSP processor that gives you total control over sound quality.
The Lab Gruppen PD3000 and PDX3000 are also great choices. The two devices deliver up to 3000 watts of power and have a rugged construction that makes them extremely durable. They also feature built-in DSP technology, which lets you adjust the sound for different venues or live events quickly and easily without any hassle.
QSC Amplifiers
QSC is a well-known brand for both live sound and installed audio. The company offers a wide range of power amplifiers, from the entry-level QSC TouchMix series to the high-end PLX Series.
For larger venues or events, the QSC PLX36022 might be a good choice. This amplifier delivers up to 3600 watts of RMS power and comes with built-in DSP processing that lets you fine-tune your sound for any situation. It also has an intuitive LCD display that makes it easy to navigate settings quickly and without fuss.
If you need an amplifier that is more portable, consider the QSC TouchMix 16 Digital Mixer/Amplifier . This device weighs only 16 pounds and delivers up to 1600 watts of RMS power. It also comes with a built-in digital mixer, which gives you the ability to mix your sound live without any extra hardware or software.
And lastly, the QSC Powerlight Series amplifiers are also great choices. These amplifiers are designed for touring musicians and deliver up to 4000 watts of RMS power. They also come with a variety of built-in protections that keep your equipment safe from damage, even during the most demanding performances. The most popular models include the QSC Powerlight 1.8 and QSC Powerlight 4.0.

Powersoft Amplifiers
Powersoft is a well-known manufacturer of pro audio amplifiers, and for good reason. The company's K-Series Amplifiers, such as the K1, K2, K3, K10, K20, K30, and K40 models, are some of the most powerful amps on the market today.
The Powersoft K Series amplifiers were originally created as a solution for the huge energy costs associated with powering massive clubs or other venues that require extremely powerful audio systems. They feature advanced thermal management technology, which keeps them cool even during the most demanding live performances. K-Series amps are also extremely durable, which makes them perfect for touring musicians who need powerful equipment that can withstand constant rigors of travel and heavy use.
The Powersoft K2 amplifier is the smallest amplifier in the K Series, but don't let its size deceive you. Weighing just 8 kg, this amplifier packs a punch with up to 4,800 W of power. Whether you're using it for a small band or solo performance, the K2 will give you pristine sound quality with unparalleled power.
Looking for an amplifier that is both powerful and versatile? Look no further than the Powersoft K3 amplifier. This incredible amplifier can generate up to 2,600 watts at 4 ohms, making it perfect for a variety of applications. Plus, its sleek design and lightweight construction means it can be easily transported and installed in any space.
The Powersoft K10 amplifier is a high-powered amplifier that is perfect for touring sound reinforcement systems. It delivers 12,000 watts of power from a single rack space chassis, making it capable of driving subwoofers and large-scale FOH systems equally well. Plus, with its 2Ω load capability, the K10 can be used to reduce the number of amplifiers required in your system.
One of the most impressive models of the K Series is the Powersoft K20. With this model, Powersoft has designed a high-powered amplifier that packs a lot of power into a small frame. Ideal for subwoofers, this amp provides up to 18,000 watts of sound in a single rack space. With its smart design and sound quality focus, the K20 is perfect for anyone looking for an efficient and reliable amplifier.
The Powersoft Ottocanali 12KW is also an impressive amplifier. This device delivers up to 12000 watts of RMS power—enough to power even the largest speakers with ease. It also comes with a built-in DSP processor that enables you to tweak your sound easily on stage without any extra hardware or software, which is great if you tend to change venues often.

Meyer Sound Amplifiers
Meyer Sound has long been recognized as one of the world's leading manufacturers of audio electronics, and its power amplifiers are no exception.
The Meyer Galileo Callisto 616 is a great option if you're looking for an amplifier with plenty of power that can also fit in small spaces. This amp delivers up to 3000 watts at peak levels. It features analog signal processing, which lets you fine-tune the sound without any hassle – perfect for quick adjustments or making last minute changes before your show begins! For larger venues, consider the Meyer Galileo Galaxy 408 or the even more robust Meyer Galileo Galaxy 816 instead. This amp offers more than twice as much power (up to 6000 watts), so it's ideal for large arenas where every detail needs to be heard.
Yamaha Audio Amplifiers
Yamaha Audio's range of power amplifiers is equally impressive. One great choice from their amplifier stock is the Yamaha P5000S, which can deliver up to 5000 watts of RMS power at peak levels. The device features six channels with independent level controls, making it easy to mix sound on stage or in front of house without any hassle. It's designed specifically for large events where clarity and detail are essential – perfect for major stadiums or outdoor arenas.
If you're looking for an amplifier that is both powerful and versatile, the Yamaha PX5000 might be just what you need. This amp can provide up to 5000 watts of power, making it perfect for larger events. It also features a variety of input options, so you can use it with any type of sound system. Plus, the PX5000 has built-in DSP processing, which lets you adjust the sound to match your specific needs.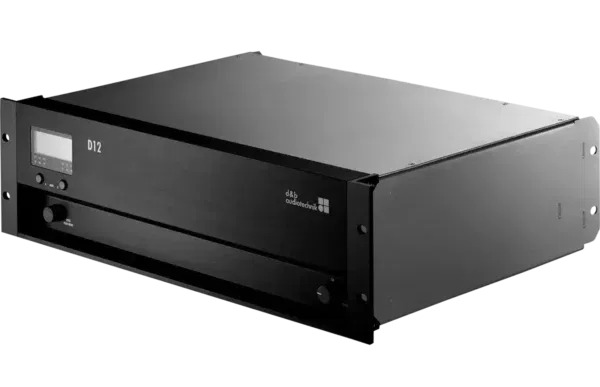 d&b audiotechnik Amplifiers
Another choice of amplifiers for live sound professionals is d&b audiotechnik. This company makes a range of professional amps that are designed to provide clear, powerful amplification without adding excessive noise or distortion.
For larger venues (or if you need more than three channels), try the new TEC A12 instead. This amp features five individual output cards – each capable of delivering up to 1200 watts – which gives you a ton of flexibility. You can even use it with several smaller speakers for more power and better coverage, or connect to larger speaker systems if you need more volume.
As mentioned previously, some other popular models come from the Q Series of amplifiers.
For example, the d&b audiotechnik D12 2-channel amplifier is a medium to high power amplifier that delivers crisp, clear sound into low impedance loads. It's perfect for use in mobile and installation environments, and contains setups for all d&b loudspeakers. Plus, with the digital rotary encoder and LCD display, it's easy to configure the amplifier to your needs.
Additionally, the d&b audiotechnik D80 4-channel amplifier is perfect for powering your d&b loudspeakers. It offers a high power to size ratio, making it perfect for small to medium-sized events. With its integrated DSP and Dante networking capability, the d&b audiotechnik D80 amplifier is perfect for any situation.
Shopping for Power Amplifiers
By now we hope we've given you some good ideas on how amplifiers could benefit any live events or concerts coming up soon. Live audio equipment manufacturers have created many fantastic models over the years that help event professionals get outstanding results every time they head in for a sound check.
If you aren't sure which amplifier will be best for your next event, it might help to talk with a specialist at Gearsupply.com. Our staff members can provide plenty of advice and assistance as you figure out what type of power amp will work best in your situation. They can even help guide you through the buying process, making sure that everything goes smoothly from start to finish.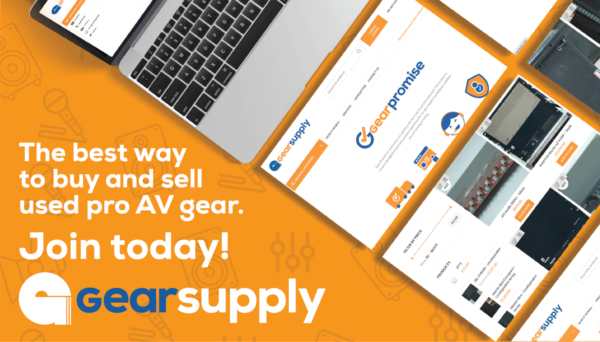 Gearsupply.com is an online marketplace for buying and selling used professional AV equipment for live events. Shop used pro audio, used pro video, and used stage lighting today!